Murray to Mountains Rail Trail
The Murray to Mountains Rail Trail leads out from the centre of town. Take a self-guided journey as far as you dare, but remember Beechworth is at the top of a hill; so while it's all downhill to begin, you have to get home again.
Beechworth to Everton Station is a popular 20km roll on sealed trail, with the sights, sounds and smells of classic Aussie bush. The Trail follows the spur line through the former Baarmutha Railway Station site, crossing bridges and culverts. A free wheeling return journey as it's all down hill!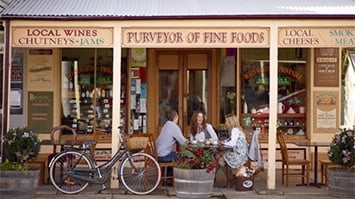 You are well catered for in Beechworth, with many purveyors of quality local produce, cheeses, breads and treats. Fill your saddle bags and explore the tree-lined streets, Gold Rush buildings and natural beauty in the Beechworth Historic Park.
On a warm day, the beach area at Lake Sambell is the perfect place for a cool dip and your BYO picnic.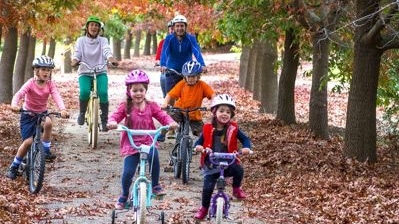 The Gorge Ride is a short downhill trundle down Camp Street from the Post Office, along the quiet scenic Gorge Road. Visit the Powder Magazine as you head on the one-way sealed road to the bridge, with rockpools and creek to splash in and picnic by. Take care in this area as rocks can be slippery.
Suited to children 8+, the Gorge Road loops back into Beechworth on unsealed track, to Newtown Bridge. The channel visible below the bridge was cut through solid granite over a two year period in the late 1860s, enabling the area upstream to be sluiced for gold.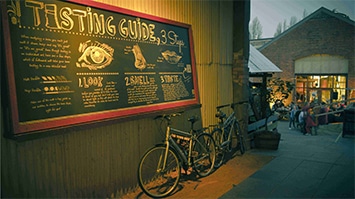 Pick up a bike and take in the sights and sounds of beautiful Beechworth. Bridge Road Brewers offer complimentary Town Bikes. with a map built into the frame of the bike or Beechworth Honey have a variety of bikes that are available for hire, along with a Blossom to Blossom map that follows the journey of the honey bee. Available from The Honey Shop by Beechworth Honey.