Clean, seasonal food, accommodation with essential oil-infused showers, personally tailored spa treatments and something called "vino therapy" - yes please!
This holistic High Country nirvana was Deb Donkers' vision for The Spa Beechworth 15 years ago. For the past 13 years, Deb has held back on the overarching plan to have accommodation, food, Wellbeing Shop and space for other health professionals to collaborate, having only launched the day spa portion of the business plan. This year, however, thanks to a stunning new location, her dream will finally come to fruition.
Having left the previous Mayday Hills location, The Spa Beechworth is now located in the dramatic 1860s building, The Benevolent Asylum. Built in Flemish Gothic Revival style it stands unique and proud with paired windows of pointed Gothic form and dark brick diaperwork patterning, though for Deb, it's most impressive feature is its past.
"It was a hospital created to house the orphans of the gold rush," she explains.
"The Gold Rush put Beechworth on the map and created wealth in the town. Unfortunately there were people that didn't find gold but couldn't afford to come home or bring their family to them. They became orphans, so the Benevolent Asylum was built to house them and give back, hence the name. I feel like we're now giving back and helping people feel a connection back to themselves - it's a really lovely link".
The Benevolent Asylum, is now proudly home to The Spa Beechworth, Wellness Store and, later this year, accommodation. After massive renovations, Deb somehow found the sweet-spot between ensuring preservation of the heritage building, making it functional and making it beautiful. The Benevolent Asylum now boasts a very elegant, Scandanavian interior, with high ceilings, cosy treatment rooms and serene waiting rooms with luxurious lounges to drink in the view and indulge in local wines and teas.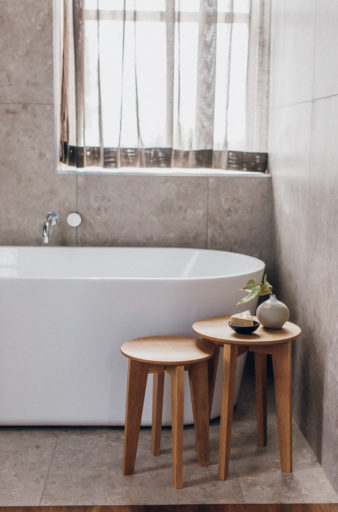 "Our whole philosophy, and you see it in our decor and everything we make, is find connection over possession," Deb said.
"We don't want to fill you up with clutter, we want to pair things back, even if that makes you uncomfortable, because that creates conversation and connection".
The accommodation to come, known as the "Stay Well Rooms", are the embodiment of this philosophy. They will be screen free, offering magnificent stone soaking tubs, essential oil infusing showers, seasonal, regional food to promote gut health, sleep promoting massages and vino therapy - "because moderation is key."
"It's really the rebirth of what we were trying to do 15 years ago, but I feel like people are ready now," Deb said.
Even if you aren't planning on pampering there's still a feast for the senses to be discovered at The Spa Beechworth, with stunning views across town, the fascinating building itself, and the Wellbeing Store - complete with The Spa Beechworth's own products, carefully designed by Deb herself.
Surely the most exciting thing to hit Beechworth this year, take this opportunity to treat yourself, find connection or just satisfy your curiosity at The Spa Beechworth.