It's Autumn and the orchards in Stanley are in full swing harvesting their bounty. There is nothing like the taste of an apple just picked from a tree; loaded with goodness - there certainly is something in that old adage 'An apple a day keeps the doctor away'.
Picking apples is a fabulous and fun thing to do while you're in the North East Victoria region. Get your kids outdoors in the fresh air and let them see that fresh produce is grown on farms, and doesn't magically materialise in supermarkets.
You will be delighted by the short drive from Beechworth as the scenery enroute is just magical, weaving your way up to the picturesque township of Stanley. You can also approach Stanley from the Yackandandah – Myrtleford Road on an equally stunning drive.
The newest addition to the Stanley orchard scene is the fabulous Black Barn Farm. Run by local couple, Jade and Charlie Showers, the Farm employs permaculture principles and they grow not only apples but pears, berries, nuts, stone fruit, quince, olives, pomegranates, figs and perennial herbs and vegetables.
Currently, at Black Barn Farm's Europa Gully Orchard, old favourites like Fuji, Granny Smith and Pink Lady are ripe for the picking. Try some lesser known but no less delicious varieties like Cleopatra, Five Crown and Mutsu. You may just find your new favourite!
Jade and Charlie's two sons get in on the act too, making their famous apple cider donuts. These are totally addictive and made with fresh apple juice – the not-so-secret ingredient, of course!
The farm has a number of activities planned over Easter at their Europa Gully Orchard and are open from 10am until 4pm every day until 28 April excluding Good Friday and Anzac Day.
Located within the township of Stanley itself, Sinclair's Orchard has a retail outlet located in the township of Stanley itself. Here, you can purchase apples, juice and chestnuts.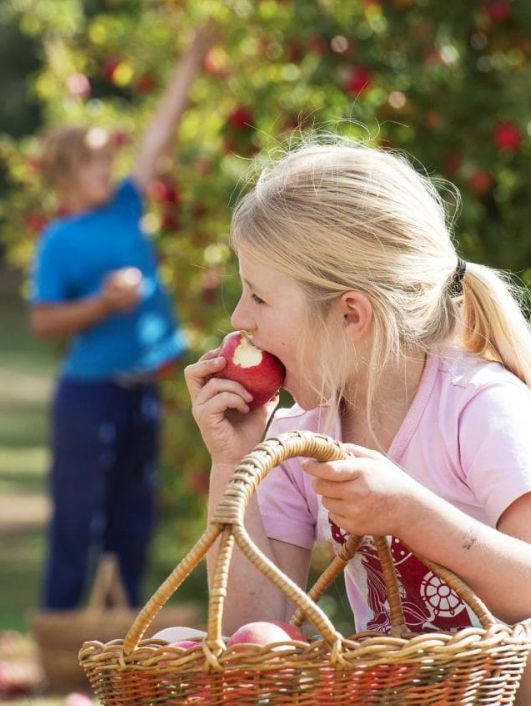 Jade's fool proof, family favourite apple pie!
Quantity of your favourite short crust pastry to line your pie dish and cover your pie (Jade uses shop bought but if you have the time and inclination, you can make your own)

2 large Mutsu apples

2 large King Cole apples

½ cup of sultanas

½ teaspoon vanilla

2 tablespoons rapadura sugar

Pinch of cinnamon
While you are proofing your favourite pastry, lightly stew the King Cole apples – this will soften them and make for a tastier end product. Mix together the remaining ingredients and combine with the lightly stewed King Coles. Put the mixture into your pie dish and cover over with pastry, pinching the edges to seal in the apple deliciousness. Brush the top with some beaten egg, then sprinkle some sugar and with a fork, prick the pastry about four times. Pop in the oven and bake until the pastry turns golden – about 25 mins at 180 degrees, give or take a few minutes depending upon your oven.
Serve with a dollop of cream or ice cream but before you do, share a pic of your home cooked apple pie on your favourite social media channel and hashtag #stanleyapples