While our Beechworth Historic Precinct is temporarily closed, please explore the history, buildings, collections and stories from the comfort of home or classroom.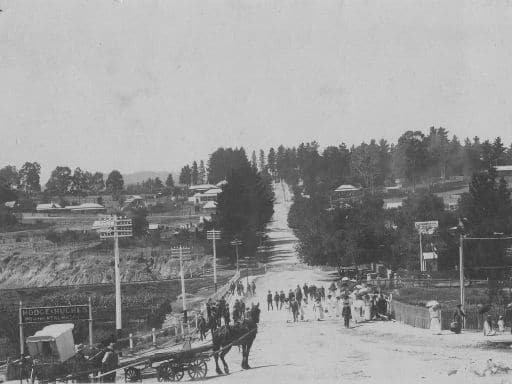 Search the Collection
Search through photographs from our collection on the Burke Museum page on Victorian Collections. Follow the digitisation of our growing collection of over 30,000 objects and 2,500 historic photographs.
Send a Telegram
To help us all stay connected in creative ways, Leo and the volunteer operators at the Beechworth Historic Telegraph Station are offering FREE telegrams to be sent to anyone within Australia!
Rock n roll Outlaw online
Did you miss seeing Rock n Roll Outlaw? The exhibition booklet is now available online! Follow the link to have a look at the details behind the controversial Tony Richardson film, Ned Kelly.
Past Tours
140  Years since Ned Kelly's Committal Hearing in Beechworth
Starting on 6 August 1880, the committal hearing at Beechworth Courthouse ultimately decided Ned Kelly would face trial for two counts of murder in Melbourne, where he faced his final sentence.
The Beechworth Powder Magazine
Built of solid, buttressed granite, with slate roof and surrounded by a high stone wall, the Powder Magazine was used as a storage room for large amounts of black-powder used in mining and quarrying. By law, miners were required to leave bulk black-powder in this building overnight.
Ask a Curator Day
Are you interested about what it is like to work in a museum? On Wednesday 16 September the Burke Museum and Beechworth Historic Precinct staff celebrated Ask a Curator Day. The day encourages general public curious about museums to question the keepers of cultural heritage about the objects in their care and what it is they do with them. The Precinct team asked for questions to be sent in to them for us. Not just about curators - we were asked about our collections, research, events, tours and more!
Keep up to date with the Beechworth Historic Precinct during this time by following the links below